In this presumably joke listing, a man is selling off a car which was destroyed by a Bus recently ending up a total loss.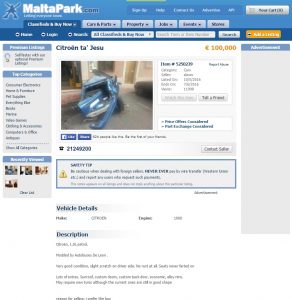 The description says
"Citroën, 1.0L petrol.

Modded by Autobuses De Leon .

Very good condition, slight scratch on driver side. No rust at all. Seats never farted on

Lots of extras. Sunroof, custom doors, custom back door, economic, alloy rims.
May require new tyres although the current ones are still in good shape

reason for selling: i prefer the bus".