FLASHBACK TO EUROVISION 2005… Originally published in MAY 2005 on Malta Network Resources.
Chiara's Angel Won 2nd Place at Eurovision representing Malta. Greece, the favourite even in the Malta Network Resources Poll, won the contest as expected with 230 points while Malta obtained 192 points.

Chiara, who was in Kyiv for the Eurovision Song Contest 2005, represented Malta on Saturday 21st May 2005. She was the third singer, after the UK's singer.
Chiara sung her ballad called 'ANGEL', which can be heard on Malta Network Resources Internet radio.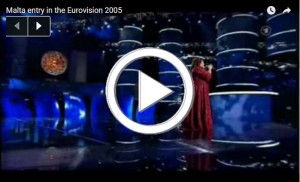 Chiara represented Malta in the Eurovision Song Contest in 1998 with "The One That I Love", 2005 with "Angel", and 2009 with "What if we" and is with a second and a third place the third most successful participant who never won the contest (behind Germany's Katja Ebstein and Wind).
On the Cyprus Eurovision 2006 official website there was a report that Chiara, a guest in the 2006  Cyprus festival semifinals, said that she might be representing Malta once more (i.e for the third time). This turned out to be a reality in 2009.
Chiara's father was ill at the time.
When the first ESC semifinal was held, people seem NOT to have voted for ballads (those ballads were eliminated the day before),
Best wishes to Chiara!
Some Internet comments I read on other Internet forums straight after Chiara's performance:
'Michelle McManus'
'definitely worth voting for'
'I thought it was a left over from the AOL episode of Dr Who' (reference to the funny Aliens of London Episode with aliens with zips on their heads… the guy was joking of course, and said he would vote for Chiara!)
'She looks more like an opera singer'
'The audience certainly like the Maltese entry'
'So did I, at least she can sing and didn't prance around like a gymnast'
'Malta's song is nice but they never win.'
'Malta, so that's where Michelle Macmanus has got to.'